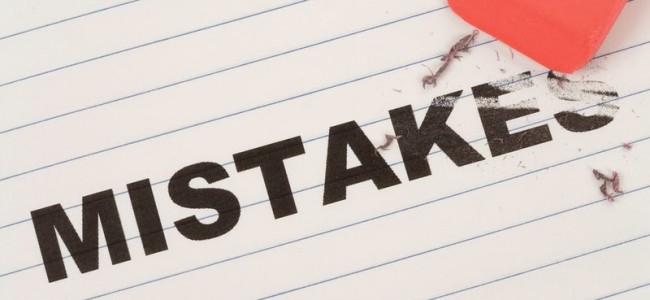 Make a fool of yourself lately?
It's easy to do, you know.
Since starting to market my business online I have made a lot of mistakes.
But I've learned from them.
Here are 24 costly blunders-I have made most of them at one time or another.
Hopefully listing them here will help you avoid all of them.
Paying seo "specialists" to rank your site in the search engine results pages for search phrases that don't appear anywhere on your website/blog.
The good Lord can't make this happen. And your "seo expert" is ripping you off.
Failing to use video.
Using video, uploading to YouTube and not using the description box to its full extent.
For example by linking back to your website/blog.
Here's what needs to go in the box: http://yoursite.ie.
Poor/amateurish LinkedIn profile.
No LinkedIn account or profile.
White text on a black background on your website/blog.
You might think it looks cool, attention grabbing, and funky.
It's not.
It's just annoying for the reader after a short while of trying to read what you have to say.
Take a look at Google.com, Facebook.com, Twitter.com, Apple.com, Youtube.com, Pinterest.com.
All these online monsters have one thing in common: black text on a white background.
It has worked well since the invention of the printing press, usability studies have proved it is the most effective colour combination, and people expect it.
"Doing a blog" and thinking it is a good use of your time.
Instead, publish great content that your visitors will appreciate because it helps solve their problem or educates them about issues that interest them.
Planning what you are going to write, researching it properly, and writing in a crystal clear way is what's required.
And committing to publishing regularly.
Failing to find out what your target market, your ideal customer, is looking for (see 7 above).
It's easy to find out eg ask them in a short survey, see what they are saying on forums and discussion boards, etc.
Failing to give it to them.
Advertising on Facebook for "likes" (send the money to a worthy cause instead-maybe the homeless in Dublin).
UPDATE September, 2015: I no longer believe number 10 is a mistake. In fact, I have discovered that advertising on Facebook can be stunningly effective, if you know what you are doing.
I would strongly recommend advertising on Facebook, but ensuring that your ads are good, your audience is tight and focused, and you are not trying to sell from your ad. You would be far better off building your email list with your Facebook campaigns (see number 12 below).
Too many potential traffic leaks away from your website/blog to places like Facebook, Twitter, or other social media sits.Facebook and Twitter don't need your traffic. You need theirs.
Not using email to connect with your audience/potential market.
No internal linking on your website. Allowing your visitors to find quickly and easily what they are looking for on your site is critical. Internal linking helps to do this.
A boring, uninformative "About Us" page which is exclusively about the writer. It should also, ironically, be about the reader and what you can do for her.
No photo of a human being on your "About Us" page. (see 14 above).
Asking people to become subscribers to your website newsletter but not giving them a reason to sign up. You need a strong "lead magnet/ethical bribe".
Asking people on social media sites like LinkedIn to "read my latest blog" or telling them in a headline:"New Content". Give them a reason to read it and address the question of "what's in it for me?"You can't bore people into submission or doing business with you.
Not enough or poor, thin, uninformative content on your website/blog.
Broken links on your site.
Boring titles on your articles/blogs/posts which give no encouragement or reason to the reader to actually read what you have written. Offer them a benefit in your headline-a benefit for the reader for reading.
Not categorizing your blog posts to make it easy for your reader to find what he is looking for.
Failing to use images. A picture is worth a thousand words, if it is the right picture.
Using images but no alt tags.
Thinking the search engine results pages are organised alphabetically. Google, and the other search engines, organise the results in terms of relevance to the searcher's "query".
Have you made any (many) of these mistakes?
Have you made other mistakes?
What's the worst one you have made?
Let me know below.