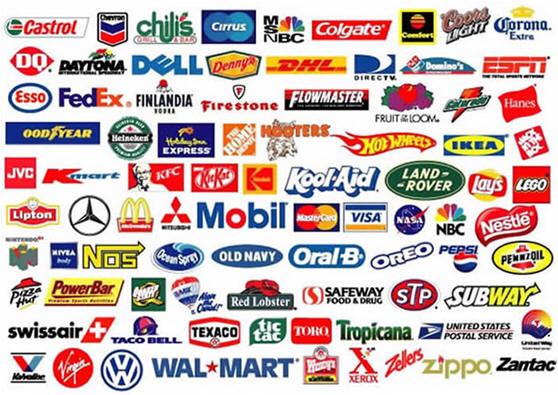 Do you have a valuable trade mark? Is someone infringing your trade mark?
Are you thinking about registering a community trade mark (CTM)?
This  article will look at trade marks, community trade marks (CTM), the benefits of trade mark registration, how to register a trade mark, registered and unregistered trade marks, and more.
First: what is a trade mark?
A trade mark is the means by which a business identifies its goods or services and distinguishes them from the goods and services supplied by other businesses.
The registration of a trade mark is an important task for any small business owner.
The Trade Marks Act, 1996 defines a trade mark as
"any sign capable of being represented graphically which is capable of distinguishing the goods or services of one undertaking from those of other undertakings".
6.—(1) In this Act a "trade mark" means any sign capable of being represented graphically which is capable of distinguishing goods or services of one undertaking from those of other undertakings.

(2) Without prejudice to subsection (1), a trade mark may, in particular, consist of words (including personal names), designs, letters, numerals or the shape of goods or of their packaging.

(3) References in this Act to a trade mark include, unless the context otherwise requires, references to a collective mark within the meaning of section 54 or a certification mark within the meaning of section 55 .
A trade mark may consist of words, (including personal names), designs, logos, letters, numerals or the shape of goods or of their packaging, or of other signs or indications that are capable of distinguishing the goods or services of one undertaking from those of others.
Trade Mark Registration
Not all trade marks are capable of registration.
Registration will be refused for a trade mark which:
is not capable of being represented graphically or not capable of distinguishing good or services of one business from those of other businesses,
does not have any distinctive character,
consists exclusively of signs or indications that designate essential characteristics of goods or services (e.g. their quality, intended purpose, geographical origin etc.),
consists exclusively of signs or indications which are customary in the language in the trade,
consists exclusively of the shape, arising from the goods themselves, or which is necessary to obtain a technical result, or gives substantial value to the goods,
is contrary to public policy or principles of morality,
is likely to deceive the public, e.g. as to the nature, quality, or geographical origin of the goods or services,
is applied for in bad faith,
is identical with or similar to a trade mark that is already on the Register in respect of identical or similar goods.
Trade mark registration creates an official record of your rights as owner of a particular trade mark and makes it easier to prevent others from using it.
Trade mark registration grants a statutory right, subject to certain conditions, to prevent others from using the trade mark without the registered proprietor's permission – i.e. to prevent infringement.
Trade mark registration confers an exclusive right to authorise others by means of licensing to use the trade mark for the goods and /or services for which the trade mark is registered.
You should consider registering your trade mark if it is important to you that your customers are able to identify your products and services from those of your competition.
Unauthorised use of a trade mark means the rightful owner may lose business and goodwill.
Although trade mark registration is not obligatory, registration makes it easier to prevent others from benefiting from the reputation established by the use of a trade mark by allowing the proprietor of the registered trade mark to take infringement proceedings before the court.
The fraudulent application or use of a trade mark in relation to goods without the authorisation of the proprietor and/or the possession of goods or material bearing a mark identical to or nearly resembling a registered trade mark, may in certain circumstances, be a criminal offence, and criminal proceedings may be initiated under the Trade Marks Act, 1996.
Unregistered Trade Marks
If you use a particular brand for some period of time then you may have an unregistered trade mark. If someone infringes your brand or trade mark you will still have legal recourse to protect your trade mark.
However this will involve commencing legal proceedings under the common law heading of "passing off" and the onus of proof will be upon you to establish proof of your ownership of the unregistered trade mark.
This can be costly and time consuming and you will not enjoy the protection of registration and the remedies provided by the Trade Marks Act, 1996.
Benefits of Trade Mark Registration
The principal benefits of trade mark registration are
Without registration you can only rely on a legal action for "passing off" to protect your rights
Registration will help protect your business identity and goodwill
It is proof of your ownership of the intellectual property rights of the trade mark
Protection against other businesses whose products/services are defective who trade in the industry
Protection against others using similar trade marks.
Types of Trade Mark
Ordinary or standard trade mark
The majority of all trade marks fall into this category.
They consist of words, slogans, logos, etc. whose purpose is to distinguish the goods and services of their proprietors from those of other undertakings.
Collective mark
A Collective trade Mark is a mark that distinguishes the goods or services of the members of an association from those of others.
Certification mark
A Certification trade Mark is a mark that "certifies" goods or services as being of a certain standard or possessing certain qualities or other characteristics.
A certification mark can only be registered in the name of the proprietors if they themselves do not produce or provide the goods or services to which the mark is applied.
Series of trade marks
A series of trade marks is a number of marks, which resemble each other in their important features and differ only in respect of non-distinctive elements that do not substantially affect their identity.
Three-dimensional mark
A three-dimensional trade mark is a trade mark that consists of the shape of a product or its packaging.
Application for a Trade Mark
Any person or company etc who uses or proposes to use a trade Mark can apply to register that trade mark.
An application may be made either before the trade mark is put in use or afterwards. Generally speaking an application should be made to register a trade mark as soon as possible to ensure priority over anyone else who applies to register the same or similar mark.
To apply, complete the application form 1 on Patents Office website. The fee for filing an application may be paid at this time or within one month of that date.
An applicant may pursue his or her application personally or choose to employ the services of a registered Trade Mark Agent. If an application meets the criteria for registration, it is registered with effect from the date of application.
The Application Process
When an application (which contains the minimum information required) is received, a filing date and application number is assigned and a filing receipt is issued.
The Minimum requirements for a filing date are –
A request to register the Mark (completion of the prescribed application form meets this requirement),
The name and address of the person requesting the registration,
A representation of the trade mark,
A statement or list of the goods and/or services for which registration of the trade mark is sought.
The application is then examined as to its registrability.
The examination process includes a search of relevant databases to ascertain whether the trade mark or a similar mark has previously been registered. If this is found to be the case, then the Office may refuse to register the trade mark.
The examination also addresses other obstacles to trade mark registration such as, for example, whether the mark is simply a laudatory statement of a product's quality (e.g. "Best Quality") or a sign that has become generic within a particular field of commercial activity. These are among a number of grounds on which an application for registration may be refused.
If it is proposed to refuse registration in a given case, the Applicant will be informed of the reasons why and will be afforded an opportunity to make arguments in support of the application.
Before any decision to refuse becomes final, the Applicant will have a right to attend an oral hearing before a senior official of the Patents Office.
If the application is accepted for registration, details of the mark will be published in the Official Journal. Within 3 months of the advertisement of a trade mark, any person who objects to its registration may send a notice of opposition to the Office accompanied by the prescribed fee and the Office will copy this to the Applicant. Each side (the Applicant and the Opponent) is then given an opportunity to file evidence in support of its case and the question of whether the mark should be registered is ultimately decided by a senior official of the Office.
How Long Does a Trade Mark Last?
A trade mark registration can last indefinitely provided the registration is renewed.
Registration is initially for a period of ten years (from the date of filing of the application) and it can subsequently be renewed every ten years on payment of the renewal fee.
Community Trade Mark (CTM)
A CTM (Community Trade Mark) is effective across all 27 states of the European Union.
However as it has unitary effect, that is recognised in all 27 states, if your trade mark registration application fails in one state then your application for a CTM will fail.
Benefit of a Community Trade Mark
The big benefit of the community trade mark procedure is that it allows
A single application for all 27 EU states and any new members
A single administrative centre
One language to be dealt with
Very cost effective compared to registering a national trade mark in a number of countries.
Should your application for a CTM fail you do have the option of applying to register in individual states but clearly this will require lawyers or agents in many different countries and other costs such as translation of documents, many administrative centres and files to deal with.
Maintaining your CTM
In order to maintain your community trade mark you will have to use it in at least one member state within 5 years of registration but using it in only one member state will allow you to maintain your CTM across the European community.
Enforcing your CTM
To enforce your CTM there are essentially two avenues open to you-
Issue proceedings at the Community trade mark courts
File requests with EU customs offices to retain allegedly counterfeit goods under their control.
The whole system of CTM (community trade marks) is administered by the OHIM (Office for Harmonisation in the Internal Market) in Alicante, Spain.
Priority of an earlier national trade mark
If you are the owner of a national trade mark for the CTM application that you now wish to make then you can claim the priority of that previous mark in your CTM application which safeguards your previous trade mark rights even if you choose not to renew the national mark.
CTM application fees
The application fee for a CTM is €900 if you do it online and €1,050 for a paper based application and this includes 3 classifications or classes of goods/services. Each extra classification costs €150.
Keep in mind that you will also have additional professional fees for a solicitor/lawyer/trade mark agent.
By Terry Gorry
Google+