There's nowhere on the main street in Kinnegad to buy a pint of milk or a newspaper now, you know.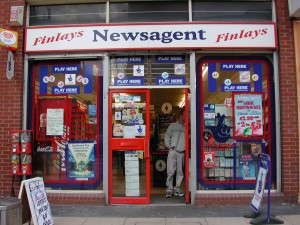 Not since "Flemings", the traditional "newsagents", closed its doors a few months ago.
There was no big announcement, no social media campaign to keep it open.
Nada.
The doors just weren't opened the next morning.
And within a fortnight the long established newsagents in Enfield, "Ryans" (formerly "Mulligans") went the same way.
These shops occupy prime Main Street positions in the centre of Kinnegad and Enfield; and they used to occupy prime positions in their respective communities.
Before the internet, before social media, people used to buy newspapers and magazines.
And the National Lottery only put their Lotto machines into a limited number of outlets in any town. The local newsagent was generally their first choice.
Because the newsagent's shop could guarantee footfall-plenty of it.
People needed newspapers and milk and cigarettes and pipe tobacco and pipe cleaners and petrol for Zippo lighters.
So, they had a type of monopoly because the newspaper and magazine companies only supplied official, recognised newsagents.
Throw in the Lotto franchise and you soon had farmers coming in, looking you in the eye and solemnly saying: "If only I had a yard of counter…".
Well the shoe is on the other foot now. Farmers can afford plenty of yards of counter now-but don't want them.
Now, Tesco, Supervalu, Lidl, Aldi, Centra, Spar, filling stations, and all the others sell newspapers and magazines and lottery tickets and tobacco, and anything else you need.
They almost certainly provide free parking too in a convenient, easy to access location on the outskirts of town; and Tesco allow you to quickly check yourself out, thereby preventing you from slagging anyone about "the yard of counter".
I started my business life in a convenience store in 1986 and the 1st big job I had to take care of was to get a regular supply of newspapers. The newspaper companies wouldn't supply because I wasn't a recognised newsagent, and wasn't permitted to become one. The paper companies were perfectly happy to have control of distribution through a discrete, controllable network of shops because it was cost effective and allowed them to wield inordinate power.
I used to envy the official newsagent. Yes, I mean real envy.
He was "official" and a "recognised newsagent" and the sales representatives from Independent Newspapers and the Irish Times and Easons and Newspread used to make regular calls to him, see was there anything he needed, and shoot the breeze.
Now? There's nobody calling to him now. In fact, he's closed the door, pulled the shutter, and gone home.
He's discovered now that once lads like me could eventually-shock, horror-get the newspapers directly from the paper companies and his artificial protection was removed, he was in big trouble.
Throw in the typical size of the newsagent's premises of around 500-1,000 square feet and a transition to a convenience store wasn't on the cards for a lot of them.
Consider too that their advantageous centre of town location could now become a problem with an increasing number of people having motor cars and needing somewhere to park and the inevitable, inexorable decline of the traditional newsagent isn't hard to explain.
I've always loved retailing and I was born into a family of small retailers. But one thing certain about retail is its competitiveness and ruthlessness.
It's dog eat dog and the survival of the fittest and requires a great degree of flexibility, adaptability, and willingness to change or wither and die.
Unfortunately further closures of newsagents like Flemings in Kinnegad and Ryans in Enfield are as certain as night following day.
Because what they did, their franchise, is now being done by convenience stores, supermarkets, and filling stations.
If you're in retailing, or thinking about getting into it, you should spend some time thinking about how quickly and substantially retailing can change, and think too about a plan B or C.
Because you don't want to go the same way of the newsagency.