As a small business owner your time is scarce, and probably getting scarcer and scarcer with ever increasing demands on it.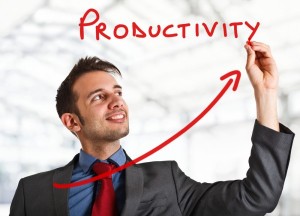 And being productive can be a struggle because of the increasing distractions you face.
But there are some tools, and all in this article are free, which will be of great help to you in helping you become more productive and save a lot of your valuable time.
The 1st one is "Last Pass". It promises to simplify your life and allows you to use your computer and manage the passwords for all your social media sites and other sites you visit on the internet.
1. LastPass password service
LastPass is claimed to be the last password saver you will ever need and it is a fantastic free service.
It stores all your passwords in one place and there is an extension for the different browsers such as Google Chrome, Firefox, and all the major browsers. This then allows you to use any computer, log into your LastPass account and autofill your password for whatever site you are visiting.
The only password you will need to remember is your password for LastPass. It does the rest and safely stores all your passwords for all the sites you visit so you don't have to.
This is fantastic for your social media accounts such as Facebook, Twitter, LinkedIn, etc. and you can also, when setting up your account make a huge, impossible to remember password and not have to remember it, as LastPass will do that for you.
So, don't waste your time trying to remember passwords, and don't use the same password for all the sites you visit.
2. Hootsuite
Hootsuite allows you to schedule all your social media activity on all the major social media sites. This allows you to sit down at a time that you choose and "load up" and plan all your tweets and social media activity for the following week.
This means that you are not spending a silly amount of time every day on Facebook, Twitter, LinkedIn, etc.
You can of course spend some time responding or replying as you wish and as you find you have some spare time during the day.
But Hootsuite allows you to lay down a foundation of good material for sharing on autopilot during the week and ensures that your followers or fans are hearing from you regularly with good links and information.
And you can set this up at your leisure at the weekend or in the evening when you have spare time and just set and forget each week.
There is a free version and a paid one; the free version allows you to share unlimited material to 3 social media sites.
This is enough for me and I use it to share to Twitter, Facebook and Google Plus.
What I would share on LinkedIn would not be automated as I take the time to go through all the groups I wish to share a link with; and I would also take the time to share more than just links on Google Plus as I feel that Google Plus is a much underrated social media site that can do your blog or website a lot of good in Google Search Results.
 3. AddThis
AddThis allows you to bookmark or share your content on a wide range of social media and bookmarking sites.
It's an extension that you can get for free for most browsers and will allow you to quickly and easily navigate to the top social media sites on the internet and share links or great content you have found and which your followers/fans will find useful.
This can be a great way to get your site's/blog's content indexed once you submit to top sites such as Twitter or Facebook.
 4. Dropbox
Dropbox allows you to store files online in a safe, secure environment and provides you with free storage to get you started.
The great thing about this service is that your important files, provided you have uploaded them to Dropbox, can be accessible from anywhere so whether you are at home, in the office or on the move your files are always accessible as you can have your files synced each time you add to them or make a change.
You can even access your files on your mobile phone.
What I love about Dropbox is even if I am away from the office my files are always synced and accessible.
Google Drive also offers the same service.
5. Google Calendar
Google Calendar is free and is a super tool to organise your time, appointments, tasks to do, etc. It is also accessible anywhere once you log in and you can access it from your mobile phone, too.
Only last week I was walking into Court in Navan when I got a call from a man looking for an appointment for this week. I could glance at my phone, see what was available, and give him an appointment, and log it in the calendar there and then.
Not having to try to remember to do these things after a few hours is a huge comfort.
Google calendar also allows you to operate multiple calendars on the same page. I operate 2:
One for appointments which I colour code red and
One for tasks that I have to do which I colour code yellow.
I can see at a glance what's on my calendar and whether it is an appointment or a job that I must carry out.
I also set up reminders for all my appointments and "to do" tasks which are emailed to my inbox.
And at the beginning of every day, at 6 am, it sends me an email with my "agenda" for the day.
I find Google calendar invaluable, and the best part? It's free, as all the tools on this page are.
I have come to rely hugely on Google Calendar, Last Pass, and Dropbox-so much so that I cannot imagine trying to work productively and efficiently on a daily basis without them.
I think they can help you too.
Let me know of any good ones you use.